The de Havilland emblem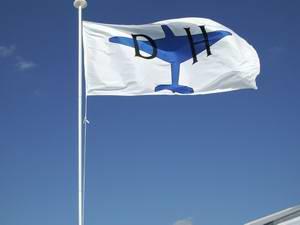 The de Havilland emblem has always consisted of the initials D H superimposed on a plan view of an aeroplane. The styling changed subtly over the years, but was always recognisable. The final style was as shown on the flag which is flown at the annual Moth Club Rally, as shown here.
Published: 2 Sep 2007
Author: The Editor
Comments
Comment on this article
Enter your comment below. Please make sure you enter your name and a valid email address. Your name, but not your email address, will be published on the website.