News:

The John Cunningham Memorial Bell

Published: February 2009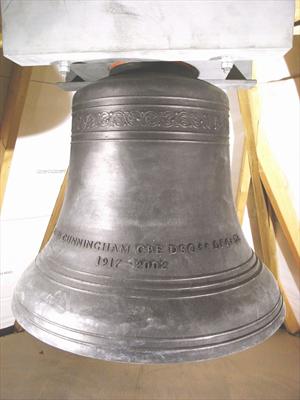 The John Cunningham Memorial Bell
John Cunningham, former chief test pilot of the de Havilland Aircraft Company, died in 2002. He was a regular worshipper at St Mary's Church, Kinsbourne Green, close to his home. In 2004 an appeal was conceived by the villagers of Kinsbourne Green to enable a new bell to be provided for the church, to be hung (and rung) in John's memory.
To launch the fund a garden party was held at John's original home, organised and hosted by John and Penny Alcock, over which the de Havilland Moth Club provided a memorable flypast of Moths. The Bell Fund met with such immediate success that the scope was widened to include an extension to the existing church building to incorporate a purpose-built bell tower. Overall, £250,000 was collected.
All has now been completed: the splendid two-storey extension provides a new entrance and two reception rooms, including a kitchen area, surmounted by the belfry. The new bell can be seen through a hatch and a miniature replica is mounted on the wall in the room below. The dedication of the extension, carried out on the evening of Saturday, 22 November 2008, was a happy occasion performed by the Bishop of Hertford to an absolutely packed church. The bell rung out for its first "public" performance, initiated by Penny Allcock herself, electronically controlled at the press of a button. Short speeches followed, including one by Air Cdre Rob Cunningham – John's second cousin – whose active service included time as a Phantom navigator.
May John be remembered as long as his bell continues to ring out.
Comment on this article
Enter your comment below. Please make sure you enter your name and a valid email address. Your name, but not your email address, will be published on the website.