News:

The orginal General Office of the de Havilland Aircraft Company at Stag Lane has been refurbished and located at Duxford.

Published: March 2009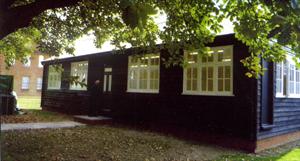 A successful conclusion to the saga of the original General Office of the de Havilland Aircraft Company's building from Stag Lane – a.k.a. 'Sir Geoffey's Hut':
Relocated to Hatfield from Stag Lane in the mid 1930s, shortly after WW2 it became the de Havilland Museum and continued in this function until the closure of the Hatfield site.
In 1993, the contents were transferred to storage at BAE Farnborough and the building was "moth-balled" on site. In 2001, as part of the proposal to convert the Admin building into the Heritage site, it was to be moved 'to a temporary position in front of the Admin Building'. By 2003, this proposal had been abandoned and 'The Hut' was transported to Farnborough for refurbishment. It was then anticipated that it would finally be transferred to the Imperial War Museum at Duxford for inclusion in the D.H. Section of the British Aviation Museum.
In 2004, it was reported that the restoration was complete and it had been placed in storage 'in knock-down form' at Farnborough. A year later this situation was unchanged: however, by 2006 the Duxford plans for the new enlarged hangar had been modified and the hut was not to be accepted by the Museum. An alternative proposal for it to be erected on a site immediately opposite the D.H.Support Limited office was made and planning permission was granted. Inevitable delays held up the completion of this plan but it is now erected and operational – the quality of the restoration probably surpassing its original condition.
The official opening of the building was celebrated on the 25th September, appropriately the 88th anniversary of the founding of the de Havilland Aircraft Company. 'The Hut' is resplendent in its original green paint finish and it is particularly pleasing to see that the brass nameplates on the floor showing the siting of the original offices have all been replaced. Its primary function will be for much needed storage space for DHSL.
Comments
Comment on this article
Enter your comment below. Please make sure you enter your name and a valid email address. Your name, but not your email address, will be published on the website.